In an effort to keep up with blogging, I will be trying out some random Memes and other such things. Today it is Top 2 Tuesday with
The Undomestic Momma
.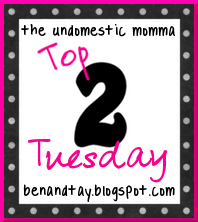 Today's Top 2 - 2 Random Facts About Yourself
1) I'm left handed, but pretty much the only things I do left handed are write and hold a fork. I cut with my right hand (probably from a lack of left handed scissors as a child), throw with my right hand etc.
2) I'm a reality TV junkie, some of my current favorites are: Project Runway, Models of the Runway,Ruby, 16 and Pregnant, True Life, 19 Kids and Counting, Celebrity Apprentice...umm I'm sure there are more, but you get the idea.
I don't know how "random" those are, but there ya go.