Time for another Top 2 Tuesday with
The

Undomestic

Momma
.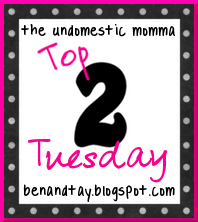 Top 2 Favorite Magazines:

1. O Magazine - I used to have a subscription to Oprah's magazine and I really enjoyed it, it has

a lot

more content that I am actually interested in compared to other women's magazines. Sadly, I don't have a subscription anymore, and it is just too expensive for us right now, but hopefully one day I'll

be able

to read it again.

2. Parents - As a (relatively) new first time Mom I really enjoy reading Parents magazine. I think it helps to keep my updated on the latest information but also provides fun ideas. Plus it doesn't hurt that I got a free subscription.